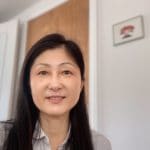 Noriko Sakura
Save
Save
Availability
Monday 10 am – 2 pm
Tuesday 10 am – 2 pm
Currently working remotely, please email directly for booking.
To view this video with a transcript please click here.
Alexander Technique & Oriental hot stone massage, Cambridge
Growing up in Japan I was familiar from an early age with the traditional practice of family members or friends giving each other a short massage to enhance well being on a regular basis. I began my working life after school as a social worker in Tokyo but I felt that there was an artistic and physical dimension lacking for me. I began training as an actor in a unique natural environment – my theatre school was in the wild north island of Japan, in log cabins which we built ourselves in the mountains. By day we worked on the local farms, by night we trained as actors. We learned both the hard physical work of labouring in the fields and the expressive physical subtlty of dance, acting and stage fighting. On graduating we made a touring theatre company, specializing in plays about nature, performing all over Japan and abroad. I worked as an actress in Japan on stage, TV, film and radio for 11 years and taught relaxation and physical expression for actors.
I came to England with the support of the Japanese government to do workshops at RADA and took a one year course in European theatre at LAMDA. And I spent a further 11 years acting in the English language, making my home in the UK.
Increasingly I became interested in the holistic relationship of mind and body.
I trained in Swedish body, Indian head & aromatherapy massage (VTCT level 3 qualification) and hot & cold stone massage in London. I can also offer pregnancy massage after the first trimester.  My practice combines the best of oriental and European massage to encourage relaxation and to revive mind and body.As an actor I had benefited greatly from the Alexander Technique. Therefore I undertook a three year, full time training as a teacher of Alexander Technique at East Anglia Centre for Alexander Technique. Now I am able to offer these complementary practices of massages and Alexander Technique either individually or in tandem. I teach Alexander Technique in UK (in private practice and groups when requested), and internationally in China (Shanghai Theatre Academy & Yunnan Arts University) and  Japan (United Performers' Studio, LesPro, Furano Group & private practice).I am a member of the Society of Teachers of the Alexander Technique (STAT) and also of Alexander Technique Education (ATE).
I am fully insured and hold an Enhanced Certificate from the Disclosure and Barring Service to work with children and vulnerable adults.
| Fees | |
| --- | --- |
| Alexander Technique (50min.) | £50 |
| Hot stone massage & Pregnancy massage (90min.) | £65 |
| Back massage (60min.) | £50 |
Alexander Technique

offers skills to prevent pain & discomfort and to rediscover your natural balance. It is recommended that you have a series of lessons which will allow you to thoroughly understand and absorb the technique which will help you to experience good use and free you from unhelpful habits.

... read more
Massage Therapy

not only provides relaxation and relief to muscle strain and fatigue, a therapeutic massage may improve your health. The many benefits to massage therapy, including physical, emotional, and physiological improvements in the body

... read more
Pregnancy Massage

is a very gentle treatment using classic massage techniques tailored for the expectant mother's needs. It also helps prepare the body for childbirth by helping loosen the pelvis and rid the body of excess tension prior to the onset of labour.

... read more
Save
Save
Save
Save
Save
Save
Save